CFit Pulse – Gloves for KickMAX Class
By your Fitness Trainers at Century Fitness
Why is it necessary to wear gloves in KickMAX Class?  Our hands have 35 bones and are attached to a wrist that all move in an intricate fashion and need protection.  Hands are great for precision but are not designed to handle repeated punching and slamming.  Gloves provide padding and protection to these delicate bones as well as stability for your hands and wrists.
At Century Fitness we sell one of the top-rated gloves for both men and women.  These gloves, made by Century Martial Arts (not our company – just a funny coincidence), make gripping objects or performing floorwork exercises easy.  You have the option of choosing open palm, or the grip bar style, which features a small bar, so you can make the best possible fist for the punches you throw.
Gloves are necessary and a rule at the club when making contact with the following:   1-kick-bag; 2-focus shield or target; 3- heavy bag.  Come join us for KickMAX class!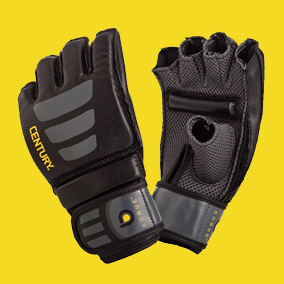 ---
This article is intended to be provide knowledge of general health and fitness principles and is not medical advice.  Please consult with a physician if you have questions.