Congratulations to Alison S, her name was randomly selected as the big prize winner for a 12 Month Premier Plus Membership!
Alison is a long-time fitness enthusiast and has been a member here at Century Fitness since 2011. This is her CFit, Be Fit journey: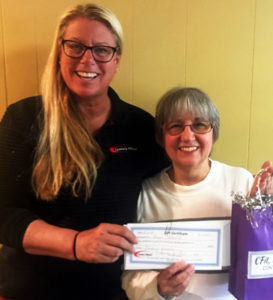 Pam Low from or Member Services/Fitness Staff is pictured here with WINNER Alison S.
"I joined CF when my health club closed unexpectedly, and CF picked up my remaining membership (upon joining). Since that time, I have developed some back problems that required physical therapy. Because of my knowledge of exercise and stretching that I learned from the wonderful instructors here, I have been able to limit my physical therapy sessions and do what I need to here. I continue to enjoy many exercise classes here every week."
Thank you! – Great story!