The Group Exercise program at Century Fitness offers so many great ways to move you. Step into our studio and get your heart pumping and your muscles working with our wide variety of Cardio and Toning classes. Make some waves in the pool and let the water work for resistance, fitness, and therapeutic healing in one of our many Aqua Exercise classes. Don't forget to tune into your inner-self and enjoy one of our healthy Mind & Body classes including Yoga and Pilates too!
Our class instructors include some of the top area talent – many of them carrying multiple certifications. The team is dedicated to delivering safe and very effective Group Exercise classes from high energy to high spirit and everything in between. There is never an extra charge for our scheduled classes, even the premium type – so come join the group… and the fun!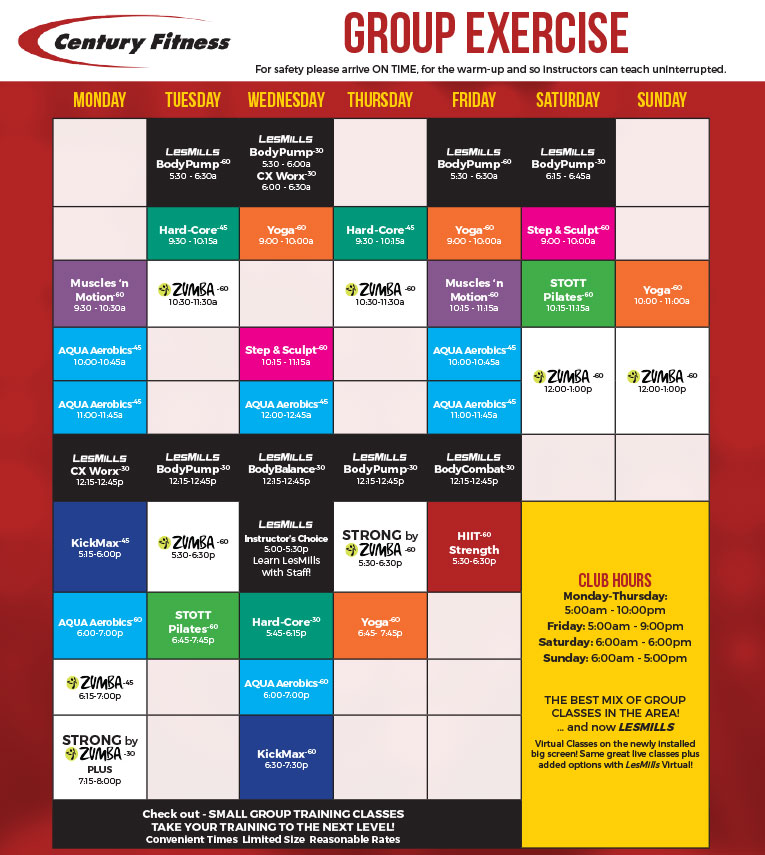 CLASS DESCRIPTIONS
HIGH ENERGY CARDIO & TONING
HARD-CORE
Plenty of core work (abs, obliques, lower back). Also full body muscle moves to engage core. All Levels
KICKMAX
Skills, drills, and equipment are used for a kickboxing workout that works on the whole body. Circuit or Interval style class. Wraps and bag gloves are recommended. Great for toning, and scorches calories.  Intermediate to Advance
MUSCLES 'N MOTION
Muscle tone and endurance work with resistance focusing on major muscles. Muscle sculpting head to toe. All Levels
STEP & SCULPT
A retro–class which primarily uses the "step bench" for a training tool. Serious cardio, leg strength and coordination. All Levels
HIIT STRENGTH
(aka:High Intensity Interval Training)  gets you better results faster while building lean muscle head to toe. Cardio intervals will push you through your threshold and common strength moves like squats will improve your strength and overall fitness.   Great conditioning workout and a real burner!   Intermediate to Advance
ZUMBA
Move your body to hot Latin and International rhythms like Salsa, Merengue, Cumbia, Belly Dance and Reggaeton. This class hits the whole body especially the stabilizing muscles. A whole lot of fat melting fun! All Levels
STRONG by ZUMBA
Work all muscles with your body weight, while perfectly synced to the beat. A high intensity workout gets you burning calories and keeps them burning long afterwards. Get Strong fast!
STRONG 30 Plus
Just like the hour long STRONG class that thoroughly works the full body, this 30 minute version challenges your body in an efficient and focused manner.  The class finishes up with the  "Plus" portion for 15 minutes of functional training for the ultimate workout in the shortest stretch of time.
HEALTHY MINDS – STRONG BODIES
PILATES
A method of improving flexibility and strength for a longer, leaner body. Focuses on the core, and improving balance too. All Levels
YOGA
Choreographed sequence of postures that flow into one another, building strength, unwinding tight joints, and loosening muscles. All Levels
VIRTUAL CLASSES (On the Big Screen)
BODYPUMP – LESMILLS
Light to moderate weights with high repetitions for a full body workout. Heart pumping music and video display. All Levels
BODYCOMBAT – LESMILLS
Martial arts inspired non–contact. Punch and kick into fitness. Easy to follow moves, great music and video. All Levels
CX WORX – LESMILLS
Activating muscles for an optimal core vital for a strong body and chiseled waist. All Levels
BODYBALANCE – LESMILLS
New yoga class for anyone and everyone. Combining yoga, Tai Chi and Pilates–based movements set to music, it will improve your mind, your body and your life.. All Levels
WATER WORKS FOR FITNESS, FUN & THERAPY
AQUA-AEROBICS
Using water as a medium for exercise-easy on joints. All Levels